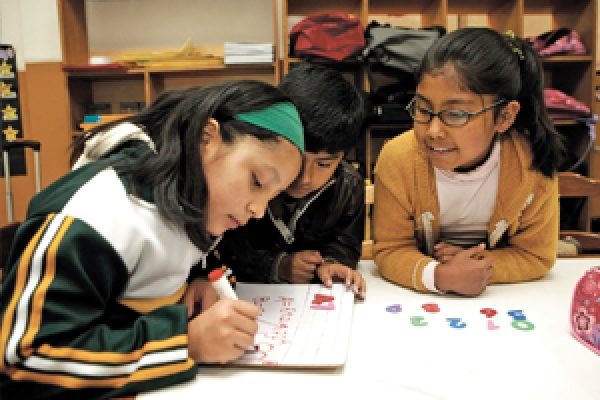 When individuals with autism spectrum disorder (ASD), their family members, and educational professionals think about the term "inclusion" and its meaning, different ideas, expectations, and concerns often result. For some, "inclusion" is synonymous with fully inclusive education alongside peers throughout the day; others may think of "inclusion" as participation with peers in some educational activities but not other activities. The first example reflects the intent of the term inclusion, while the second example is more appropriately considered mainstreaming.
Regardless of the terminology used, thinking about including students with ASD often evokes hopes, anxieties, and passionate debate among those invested in the education of students with ASD. Parents frequently report mixed emotions and opinions about inclusion, wanting their sons and daughters educated alongside peers, but often fearful of teasing, exclusion, and bullying.
The idea of including individuals with ASD in public education settings has its roots in disability rights, challenges to discrimination of individuals with special needs, and resulting federal legislation. Arguably, one of the most important events occurred when the Education of All Handicapped Children Act of 1975 was passed. Subsequent federal legislation passed in 1990 as the Individuals with Disabilities Education Act and Individuals with Disabilities Education Improvement Act impacted inclusive education for students with ASD. A key component to federal law is the mandate that students with special education needs, including individuals with ASD, be educated with peers in the least restrictive environment possible.
Why is This Important?
The practice of inclusion is based upon protecting children's access to education and benefitting from such practice. For those with ASD, proposed benefits often center on improved social acceptance and improved social communication, and peers play a critical role in these outcomes. For example, inclusion may reduce stigma, allow for social learning, increase social acceptance, and improve the social standing of students with ASD. Unfortunately, for some students with ASD, social experiences are negative, with students reporting feeling lonely, socially excluded, and bullied.
There is good news, however. A growing amount of evidence supports the value of educating students with ASD in inclusive settings and involving peers in educational programming across the "educational lifespan," i.e., from preschool to postsecondary. Much of the evidence comes from practices with young children with ASD. For example, the Learning Experiences and Alternative Program (LEAP), is a preschool program that espouses a fully inclusive model featuring various components, such as teaching peers how to intervene with and on behalf of classmates with ASD.
Likewise, peer-mediated practices in elementary school have been shown to improve the quality and quantity of social interactions for students with ASD. There has been an increased amount of work with middle and high school students that has also found that peer buddies result in improved social outcomes for students with ASD. Finally, a small, but growing, amount of literature exists regarding how to best support students with ASD in postsecondary education settings through connection with peers.
The "take home" message here is that inclusive education that is planned and includes practices with sound support, such as peer-mediated interventions, may indeed yield successful inclusive educational experiences for students with ASD. Including students with ASD without such support is more likely to result in negative social experiences.
Of course, other barriers to appropriate inclusive education exist. For example, in our work, we have found that the majority of educational professionals support inclusion, but they often report having limited experience and preparation to support students with ASD. The findings are particularly relevant for general education teachers who often report little preparation for working with students with ASD. School administrators vary in their endorsement of inclusion, and teachers' perceptions of support by administration for inclusion relate to their attitudes towards including students with ASD in their classrooms. Peer attitudes towards individuals with ASD also impact the likelihood of social interaction, which is important, as peers are the primary players in facilitating or hindering acceptance in the classroom.
Inclusive education for students with ASD has strong roots in social justice movements to end discrimination towards individuals with disabilities. Educational research and practice is catching up with this philosophical stance. The emphasis on inclusion across the "educational lifespan" will continue. As such, students, parents, and educators will benefit from more validated practices that support students with ASD from preschool to postsecondary education. And, the critical role of peers in such support should continue to grow.
---
Jonathan M. Campbell, Ph.D., is a licensed psychologist and professor of school psychology at the University of Kentucky. Dr. Campbell has worked in the field of neurodevelopmental disabilities for 20 years. His research focuses on identifying and modifying attitudes of typically developing peers towards students with autism spectrum disorders (ASD). He also researches the validity of early ASD screening instruments. He serves as a member of OAR's Scientific Council and as a member of the State of Kentucky's Advisory Council on Autism Spectrum Disorders. His work has been funded by OAR and the Association of University Centers on Disabilities/Centers for Disease Control and Prevention.
---
Related Posts