Calling All Young Artists
OAR's 2023 Youth Art Contest will officially open for submissions on February 1st.
The theme for this year's contest is
"Community"
. We look forward to seeing what community looks like through the eyes of school-aged children. This will be their opportunity to tell a story about community as abstractly or literally as they would like.
The contest is open to autistic children and their siblings, relatives, and friends. We will announce winners at the beginning of Autism Acceptance Month in April and subsequently feature the art on our website, social media, and donation tribute cards.

Award Categories
Art contest submissions will be accepted and judged in two categories, each broken down into separate age groups.
Autistic Youth:
8 years old & under
9 – 13 years old
14 years old  & older
Autistic  Siblings, Relatives, and Friends:
10 years old & under
11 – 18 years old
Grand Prize Winner: Gabrielle D. – Fair Oaks, CA
Celebrating A Time For Change
Artist's Description: When I thought about the theme 'Celebration', what came to mind was how Mother Nature celebrates the seasons, in particular spring and summer. The seed holds all the potential for the plant and the blossom brings joy and happiness. This is how I feel about me, I have disabilities (autism, seizures, and learning struggles) AND I have potential to grow and blossom just like a flower – potential for growth and blossoming, and I bring joy and beauty into the world.
Autistic Youth Age 8 and Under Winner: Jenny B. – Troutville, VA.
Dandelion
Artist's Description: The flower is blowing whoosh whoosh
Autistic Youth Age 9 – 13 Winner: Braydon S. – Safety Harbor, FL
Happy New Year
Artist's Description: This is about having fun with friends and family and everyone. Celebrating time together.
Autistic Youth Age 14+ Winner: Varun V. – Bolingbrook, IL
Celebration
Artist's Description: Celebrating my 17 birthday with friends and family. Having a blast after 2 years of the pandemic. Finally able to celebrate birthdays with family and friends.
Autism Ally Age 10 and Under Winner: Lexi M. – Alliance, OH
Celebrating Dog
Artist's Description: A dog celebrating.
Autism Ally Age 11-18 Winner: Nadia F. – South Chicago Heights, IL
Together We Will Touch The Sky
Artist's Description: The story behind this artwork, together we will reach and touch the sky no matter what challenges we face. We will be with you every step of the way.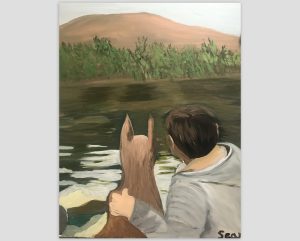 Grand Prize Winner: Sean R. – Fair Oaks, CA
Me and My Very Best Friend Sterling
Artist's Description: This painting is based on a photo taken of me and my best friend Sterling. He is a blue Doberman and enjoys our daily walks by the river. He is gentle, kind, and loving in every way. I thought that this painting captures the theme of friendship as Sterling is loyal and always by my side. He is one of my best friends.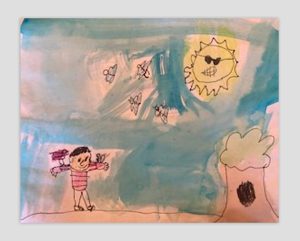 Autistic Youth Age 8 and Under Winner: Will D. – Folsom, CA.
Nature Friends
Artist's Description: The boy is holding a purple bird and a squirrel.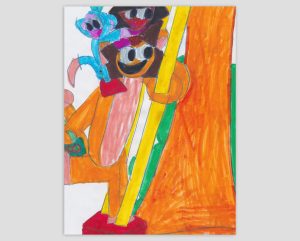 Autistic Youth Age 9 – 13 Winner: Achille M. – Bellevue, WA
Friends Help Each Other
Artist's Description: The artist's only real friends (out of sister and parents) are characters in movies. When asked to draw friends and friendship, the artist drew Leon the Lion who helps his other friends to cross a difficult part of their path. He is carrying them on his shoulders and jumping using some swings until it is safe.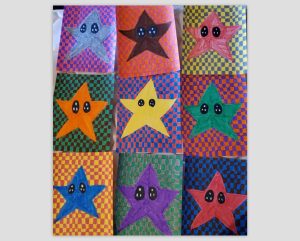 Autistic Youth Age 14+ Winner: Aidan L. – Sugar Land, TX
We Are All Unique as Stars
Artist's Description: My teacher asked me to share my idea on friends. We all are as unique as stars and friendship makes the night sky brighter.
Autism Ally Age 8 and Under Winner: Sage L. – Colorado Springs, CO
Peacock Pals
Artist's Description: It's two peacocks meeting for the first time. They become best friends and then they sit down and they lounge together.
Autism Ally Age 9-13 Winner: Melody M. – Indianapolis, IN
A String of Friendship
Artist's Description: In my opinion, friendship is a special bond between people, like a string connecting them. It's golden, to symbolize how friendship is sturdy and will last through many years. It relates to autism because it's important to show autistic people you'll always be there for them, even when things get difficult. I make sure my "strings" connecting me with my autistic family and friends are extra strong to show I love them.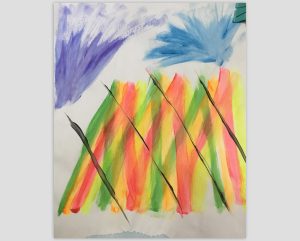 Autism Ally Age 14+ Winner: Brooke T. – Pismo Beach, CA
Two Ideas in One
Artist's Description: While I painted this piece I had the constant input and chattering of my son who is autistic. His sister had opinions too and I did my best to meet what each of them deemed represented friendship best. Just as they are friends!
Submission Form
The 2023 Youth Art Contest is not accepting submissions until February 1st. To receive art contest updates and announcements for the 2023 Youth Art Contest fill out the form below.