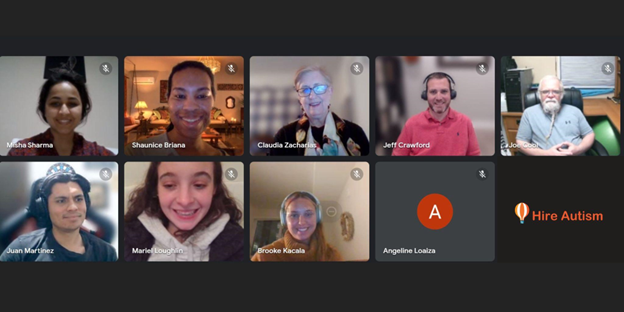 On November 2, the Hire Autism team trained 9 new navigators as a part of our fall cohort. Congratulations to our newest navigators:
Jeffrey Crawford
Frank Haynes
Brooke Kacala
Angeline Loaiza
Mariel Loughlin
Juan Martinez
Briana Oliver
Misha Sharma
Claudia Zacharias
Hire Autism navigators play a vital role in equipping job seekers with the tools necessary to independently take on the job search and meet their employment goals. They use their experience and expertise to help job seekers refine their resumes and cover letters and polish their interview skills.
Interested in Becoming a Navigator?
Our next navigator training is scheduled for January 2023. Applications will be accepted until Friday, January 6 at 11:59 p.m. ET. You can submit your application via the Hire Autism website.
If you have questions about the Navigator Program or want to learn more, contact Hire Autism manager, Courtney Carroll, at ccarroll@researchautism.org.