You did it. Congratulations! You made the choice to find a job. Whether you are looking for your first job or a new one, deciding to put yourself in front of employers via resumes and interviews is the hardest part of an arduous job search process. It takes a good amount of courage for anyone to begin a job search, but it takes a particular kind of courage to proceed as an autistic adult, a characteristic that falls somewhere between resolute and audacious.  
To better equip yourself for the upcoming emotional and mental rollercoaster that is the job search, here are some tips, tricks, and tools to keep you from missteps: 
The Search
Find the right job for you

: While searching for jobs, make sure you're searching for the ideal job for

you

. In refining your search, think of the editable characteristics as your criteria for what matters most. Experience and compensation might not be fields you can control, but distance and on-site or remote are in your control. 

Did you find the right job, but the list of qualifications is eight pages long? Do not let that stop you. Employers often post an excessive list of qualifications with optional skills and attributes in an effort to cast a wide net in their search for eligible candidates. Even if you don't possess every qualification, you might have some talents they didn't realize they needed.

 

Try LinkedIn

: Everyone is familiar with the typical job boards like Monster and Indeed, but LinkedIn can also help you find a job. Increasingly, employers are utilizing the platform to search for new hires, not just screen them. Job seekers can search, refine, and save preferences in the typical ways, but the ability to conduct your own background research on a company and see how your resume compares to other applicants sets LinkedIn far apart from other job boards.

 
Networking
Use your personal networks

: Even the thought of a roomful of people waiting for me to not just meet them but wow them with my potential is enough to prevent my attendance. If you are thinking the same thing, reconsider what networking is. It includes much more than the stereotypical networking event. All of us have personal networks: friends, family members, mentors, and coworkers, past and present. These are the best relationships to utilize during a job search. Whether you're currently employed or not, most often, your network doesn't know you're on the hunt for a job unless you tell them, so do that! Phone calls, texts, emails, even the good old-fashioned getting together in person are all great ways to let those closest to you know that you're looking for a new job. Who better to help than those who know you best?

 

LinkedIn is also great for networking

: LinkedIn is not only a great job board, it's also great for what it's meant for — networking. Aside from connecting and communicating with those you already know, you can add a banner to your profile to declare your desire for a new job as well as join specific groups to broaden your network and search capabilities.

 
First Day on the Job
Help yourself to feel comfortable

: New people, new surroundings, new expectations, and all of the unknowns that come with each can be overwhelming. To counter those unknowns, bring some certainty to help soothe the anxiety. For example, packing a lunch for that first day allows you to get your bearings before you venture out of the office on limited time and gives you the food you like to eat, killing two birds with one proverbial stone. Feeling comfortable in your surroundings is important, so bring a few small items to decorate your desk, help calm any uneasiness, and make you feel at home. 

 

Understand how to deal with office politics

: You may not encounter the complexities of office relationships on your first day, but you will encounter them at some point. What should you do about office politics, power dynamics, and an unseen pecking order? Nothing. Let's be honest, all of those situations and their observable behaviors are so foreign to an autistic individual, they might as well be alien. Be yourself, be courteous, do your job, and the rest will sort itself out. 

 
Accommodations
Disclosing is the first step to accommodations

: While accommodations are the end goal, they are the result of a different, deeper, and more difficult question: do I disclose my diagnosis? To the neurotypical person, this may not sound so hard. You need some aspects of the job adjusted to fit your needs, just like someone in a wheelchair needs a ramp or automatic doors. The difference is that much of what characterizes an autistic individual is overlooked, unseen, or unknown. In some ways, deciding to disclose means speaking your shortcomings into existence. In disclosing, you are declaring to all that you are indeed different, to the extent that legally mandated accommodations must be exercised, and that can bring its own set of problematic challenges. Nobody wants to be seen as different, but receiving your accommodations can be done in a way that benefits everyone, if explained properly. 

Help your employer understand what you need

: It's possible, and probably likely, that your employer will not know which accommodations are necessary, and they certainly don't know which accommodations you need. We've all heard the classic autistic saying, "if you've met one autistic person, you've met one autistic person;" that statement could not be more accurate and applicable here. Rather than viewing this as a task, think of it as your chance to create the work environment you desire. While the employer does have the right to ask for medical documentation, you do not have to provide it. However, this is your opportunity to achieve equality, not just for yourself, but for all your coworkers. 

 
Beyond the physical and sensory accommodations (noise-cancelling headphones, friendly lighting, flexible scheduling, etc.), much of what frustrates and devalues an autistic employee are instances where interpretation is required. From unclear directives to vague company policy, when goals and demands are not explicitly stated, employees are made to fill in the blanks, which can lead to subpar performance and unmet objectives. This is true for neurotypical employees too, not just neurodivergent employees. In asking for clear-cut directions and instructions for both your responsibilities and the work environment, you remove the subjective gray area that produces anxiety in an autistic individual while also creating an equal, level playing field for all employees. 
Searching, soliciting, and selecting a job can feel like a monumental task when viewed in aggregate, so remember, Rome wasn't built in a day. If you take apart each step and break them down into smaller goals, you'll find them easier to manage and eventually conquer. Always, no matter the task, challenge, or goal: communicate, communicate, communicate. For the most part, people want to help and overwhelmingly they will, but they need you to let them know what you need first.  
---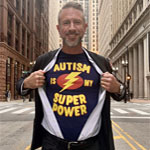 Born, raised, and residing in Chicago, Kyle Lintner is an unapologetic Cubs fan, free market enthusiast, and logical tamer of risk. A supply-chain consultant by trade, he spends his free time volunteering for organizations dedicated to enriching the lives of those who share with him a particular characteristic: autism spectrum disorder.