April Autism Awareness Month is the perfect time to foster peer acceptance and inclusion in schools. Widespread misunderstanding of autism is a common issue in schools across the country, which can, in turn, lead to a host of larger discriminatory issues like social isolation and even bullying.
Level Up the Lesson
Autism Tuned In is an online, interactive extension of OAR's Kit for Kids peer education program and is the perfect e-learning tool for virtual learners. Teachers can register a free account to access their own teacher portal, where they can create student accounts, track progress, and access valuable lesson plans and tips. The student portal includes eight learning modules, each featuring short animated video clips and activities that reinforce student learning.
Best used with students in grades 3-6, Autism Tuned In teaches them about their peers with autism through a series of video clips featuring a classmate named Nick, who has autism. Students learn to dispel myths, such as "autism is contagious," and how they can support their friends with autism by making them more comfortable in the classroom. Teachers can assign the modules as classwork, homework, or extra credit.
Autism Tuned In provides a great opportunity to include more awareness and acceptance of autism in the classroom curriculum. If you are a parent, friend, or loved one of a child with autism, please reach out to your student's teacher to see if they would be interested in using this free resource.
Interested in using Autism Tuned In for April Autism Awareness Month? If so, teachers can order student prizes (ribbons and pencils) ahead of time by first registering an account.
About the Kit for Kids Peer Education Program
Since its introduction in April 2012, the Kit for Kids peer education program has reached over 135,000 students. The goal of the Kit for Kids, which includes the story, "What's up with Nick?", is to promote autism awareness and acceptance of classmates with autism among children (grades K-8) in a non-threatening and age-appropriate manner.
Research shows that students with disabilities — especially those with autism — are more vulnerable to bullying than their counterparts. Incorporating the Kit for Kids into a curriculum is a great early step in a school's anti-bullying strategy. Designed to be led by students who have a positive influence on their classmates, the Kit encourages students to celebrate everyone's differences and helps to foster a more inclusive school community.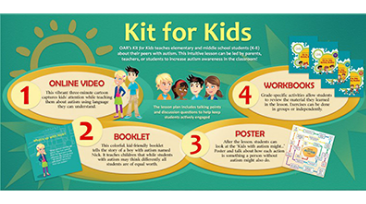 The hardcopy Kit for Kids program includes:
One lesson plan
One information sheet
One classroom poster
20 "What's up with Nick?" booklets
One feedback form
Supplemental components include:
You can access, share, and order the entire Kit for Kids program online. OAR provides up to two hard copies at no cost. For questions, comments, or bulk orders, please contact OAR at 703-243-3466 or programs @ researchautism.org.
With these peer education resources, we hope to foster a more accepting and inclusive community for generations to come.
---
Related Posts