OAR alum Beth Caruso knew she wanted to run the 2017 Marine Corps Marathon for charity. While researching charity teams she came across OAR and knew it was the perfect fit for her and her running partner, Melissa Dekker. Beth's
now 20-year-old godson, Joshua is on the spectrum as well as Melissa's sons, Brenden and Sean.
Beth first met her godson as a nonverbal 3-year-old who never stopped running. "We were bonded from the minute that I met him and 17 years later I could not be prouder of the amazing young man he has become. Watching him receive his high school diploma was one of the proudest moments of my life. Through research and education OAR is making it possible for so many other families to have that proud moment as well."
When Beth found OAR she liked that the "focus is on the quality of life for those on the autism spectrum as well as those who love them. The fact that 87% of funds raised go directly towards research and services
really stood out to me." Outside of running Beth takes every opportunity possible to discuss OAR with people who also have a loved one on the spectrum. "They often thank me for running for OAR and ask how they can help."
Beth and Melissa have run the 2017 and 2018 Marine Corps Marathon for OAR and will both be running the 2019 Chicago Marathon on the RUN FOR AUTISM team as well. We asked Beth what being part of the RUN FOR AUTISM team has meant to her and she replied simply, "more than words can express." She recalled attending the MCM team dinner in 2017, "I listened to the OAR staff and learned more about the organization. I was moved by my fellow team members who spoke about why they were running and what OAR meant to them. Everyone in that room had been impacted by autism and all of us shared an unspoken bond. That night confirmed that I had made the right decision in joining team OAR. The RUN FOR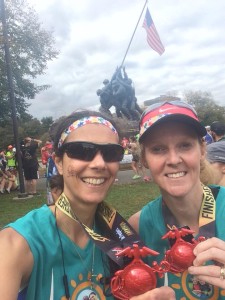 AUTISM staff is AMAZING. The support and encouragement is beyond description. I truly feel like part of a team and part of an organization that sincerely believes in what they are doing. It means a lot of my godson as well. He understands that I run all these miles for this team because of him. He knows that he is on the autism spectrum and expresses that his brain works different. He loves the bond that he and I share and the fact that I run with his photo on my shirt is just the icing on the cake. When I first told him I was running a marathon because of him he told me that he is pretty special. He was right. I take every opportunity I can to tell people about OAR and why I run for this team. I wear my OAR singlet with pride and cannot wait to lace up for OAR again in October!"
We can't wait to cheer on Beth and Melissa with their crew in Chicago!
Suggest a team member to spotlight:
Want to be a future Team Member Spotlight?
---
Related Posts