As OAR reflects on a year filled with accomplishments, the most exciting was seeing the Hire Autism program come to life as it added the first job seekers, employers, and jobs to the site. Since its launch in April, OAR has added more than 100 applicants, 20 employers, and 25 jobs. Most important, in the last month, Hire Autism has seen five applicants find jobs. So we end the year with momentum that will carry into 2018 when we finish the initial demonstration in Northern Virginia and begin to expand regionally in the second half of the year.
Hire Autism had another big success and gained national attention when it won one of two $50,000 prizes in the Encore Prize Generation2Generation Challenge in October. Encore.org received contest submissions from 180 worthwhile projects, but only 15 were chosen as semifinalists. After three weeks of online voting, during which OAR received overwhelming support, Hire Autism was announced as one of five finalist projects. The next step was a live pitch presentation in Boston, where OAR took home the People's Choice Prize.
The program concept OAR pitched to Encore.org was to develop a hands-on Hire Autism Advocates program. This new program will connect job applicants with mentors to assist them throughout the job search process. OAR has been testing the personalized approach and credits it for the recent success in helping five applicants find jobs. OAR plans to introduce its first 10 Hire Autism advocates in January and add up to 50 more by the end of 2018.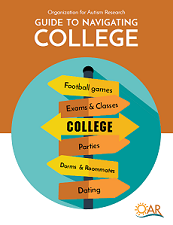 As OAR supporters know, OAR is much more than Hire Autism, and as 2017 ends, OAR will launch two new resources. The ninth guidebook in the "Life Journey Through Autism" series, "An Educators' Guide to ASD (Level 1 Supports)," launches on December 13, which happens to be OAR's sixteenth birthday. In addition, at the end of December, OAR will introduce a brand-new resource to help individuals on the autism spectrum navigate college, "Finding Your Way: A College Guide for Students on the Spectrum." Both new guidebooks will be available to order or download at researchautism.org
Finally, if you are an ebook fan, you will be excited to know that OAR has converted many of the guidebooks to ebooks as of December 1. Be sure to look for those in your favorite ebook store.
With such a solid list of accomplishments this year, OAR hopes to end with one more. Help OAR close out the year strong and reach our $100,000 goal for the 2017 annual campaign. Your donation will help us improve the daily lives of children and adults with autism and their families. When you donate to OAR, you can do so with the confidence of donating to a nonprofit that has a top rating by Great Nonprofits and four stars by Charity Navigator. Help OAR achieve its goal and continue offering quality resources to the autism community for many years to come by donating via credit card online or sending a check to OAR at 2000 North 14th Street, Suite 240, Arlington, VA 22201.
---
Related Posts