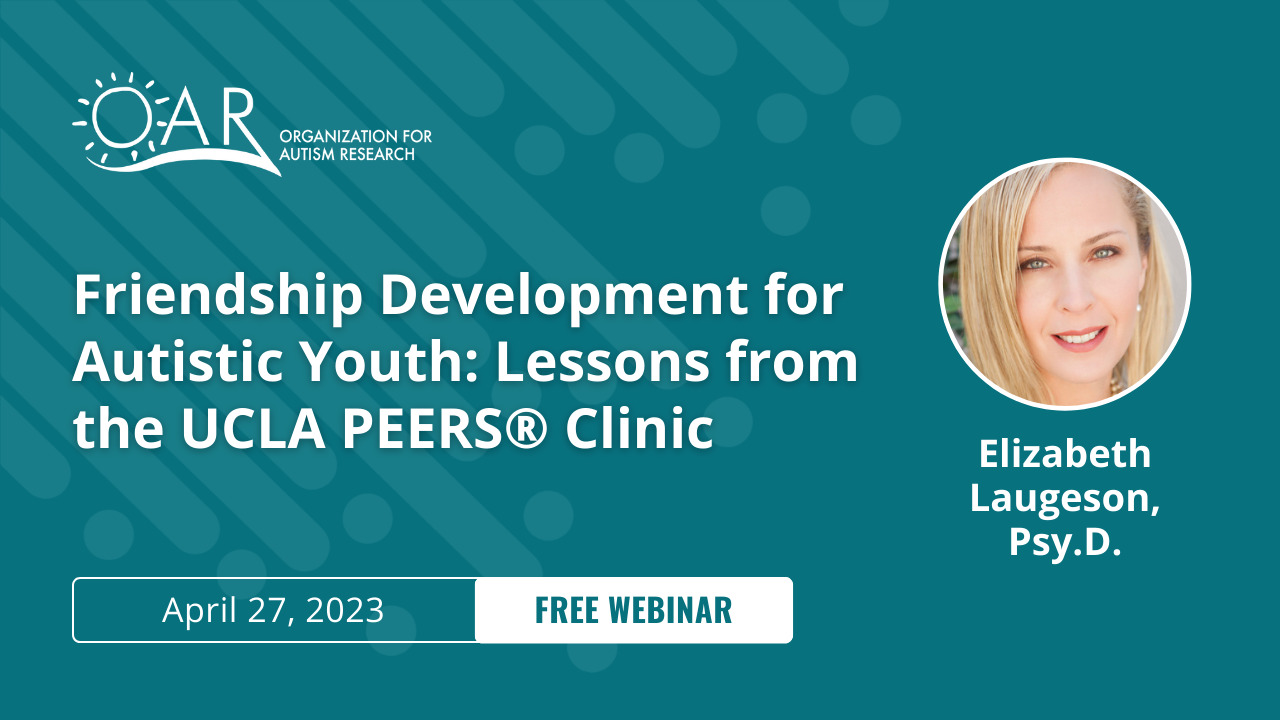 Webinar: Friendship Development for Autistic Youth: Lessons from the UCLA PEERS® Clinic
Friendship Development for Autistic Youth: Lessons from the UCLA PEERS® Clinic
Presented by: Elizabeth Laugeson, Psy.D.
This interactive webinar will provide an engaging overview of an evidence-based intervention for neurodivergent adolescents and adults seeking to make and keep friends. The webinar leaders will highlight methods for teaching friendship skills utilized in the PEERS® intervention, including video demonstrations of targeted skills. As one of the only empirically supported and internationally recognized social skills programs for neurodivergent youth, PEERS® is currently used in over 150 countries and has been translated into over a dozen languages. Attendees will be given concrete strategies for friendship development and maintenance, along with tips for handling bullying and rejection.



 Certificate of Attendance
If you have any questions or comments about this event or if you would like to request specific webinar topics for the future, please contact us at programs@researchautism.org or call 571-977-5391.
Speaker
Elizabeth Laugeson

Assistant Clinical Professor, UCLA and Director, UCLA PEERS Clinic

Dr. Elizabeth Laugeson is a clinical professor in the Department of Psychiatry and Biobehavioral Sciences at the UCLA Semel Institute for Neuroscience and Human Behavior and a licensed clinical psychologist. She is also the founder and director of the UCLA PEERS Clinic, the director of the UCLA Tarjan Center, and the program director for the Predoctoral Psychology Internship Program in Autism and Neurodevelopmental Disabilities at UCLA. Dr. Laugeson has trained tens of thousands of mental health professionals, educators, and families worldwide. She is dedicated to developing and testing evidence-based treatments to improve social skills across the lifespan and across the globe.