Find Information Tailored for You
We support all members of the autism community
About OAR
The Organization for Autism Research (OAR) was created in December 2001 – the product of the shared vision and unique life experiences of OAR's seven founders. Led by these parents and grandparents of children and adults on the autism spectrum, OAR set out to use applied science to answer questions that parents, families, individuals with autism, teachers and caregivers confront daily.
No  other autism organization has this singular focus.
Who We Are
A charity like OAR doesn't succeed on its own.
We rely on people's generosity, time, and assistance to help fund research studies,
produce and distribute guides and more.
Give Financially
77 cents of every dollar you contribute
funds the programs you see on this site.
Run for Autism
You don't have to run a marathon! You can
walk, complete a triathalon, and more.
What do we do?
We're dedicated to improving the lives of everyone affected by autism by supporting research that produces meaningful and practical results. We also keep families, educators, self-advocates, and professionals informed by delivering free, evidence-based resources and information everyday.
OUR MISSION IS TO APPLY RESEARCH TO THE CHALLENGES OF AUTISM.
See Our Impact
77% of funds go directly to research and services
Research
Outreach & Military Families
Future Projects
Scholarships
Education & Resources
Fundraising & Admin
News & Events
Stay up-to-date with our latest developments, news, stories and events.
Resources
We provide evidence-based resources that help families, self-advocates, educators, and other professionals address the challenges autism presents.
A Guide to Safety
This guide was written by parents, first responders, educators, and community members who share their strategies and resources to address safety threats that commonly arise during childhood, adolescence, and adulthood.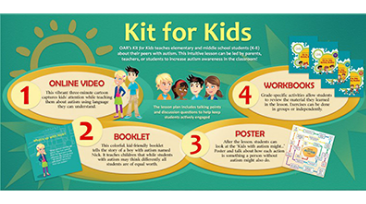 Kit for Kids
This peer-acceptance program is designed to teach elementary and middle school students about their peers with autism. The story teaches children that students with autism may think differently or need accommodations, but all students are of equal worth and should be treated as such.
A Guide for Military Families
Military sources indicate that more than 13,000 military dependents, the majority of them children, have some form of autism.
Sign up to receive news and updates!